I don't know what it is but I am on a kitchen kick this week. I want to do my kitchen. I need too. I've spent more time Googling kitchens then I have actually working on assignments or projects that I'm supposed to be doing.
We all know how crappy my kitchen looks. I'll be honest. It's not pretty. Crookedly cut doors, nappy handles and hardware, weird stirrups on the doors, western colored wood, and worst of all worsts... pink counters.
Still upset about that.
It needs an overhaul. Even for a trailer it's bad. Though on the bright side, it's not plastic.
I'll have to take some close up shots soon to show you the extent of the kitchen weirdness.
A few things that I really want to do is paint the cabinets white. I know. Big surprise there right? I love me some white. Also I think it would blend well into the laundry room that now has white cabinets and a white counter top. The tile is only a few years old so it still looks great. I would love to do some kind of subway tile beneath the cabinets. There's not much wall space so I think it would look really pretty, even if it was just white subway tile like this:
Beautimus. Yes that is a word. I just love how clean and fresh that looks. Plus I'm sure it's easier to clean then paint. Paint sucks.
This kitchen is a great example of what I would love to have. Think birds chirping upon entering the kitchen every day. White cabinets... stainless steel... wooden counter tops... it's my dream.
Alas, not all dreams can be reality. I already have all white appliances so it would be a financially bad idea to replace them with stainless steel. May as well keep the matching and fully functional ones that I have. New counter tops are also a fantasy. Painted counter tops... yes... $500 in new counters... not happening. Now the bead board on the doors? That I can definitely do! It looks so great!
I love the way that the hardwood floors look but I think I would be sooo stressed out about getting water on them that I wouldn't enjoy them. (We had a flood in the house in May of 2010 that caused us to have to replace ALL of the flooring that we had done just 2 years before. Nightmares.)
However one thing that I do really love is this awesome long rug! I really like how cozy it is and how the lines seem to expand the space. I think with an IKEA rug I could paint one like that. I just wonder... would it get too dirty? Hmm...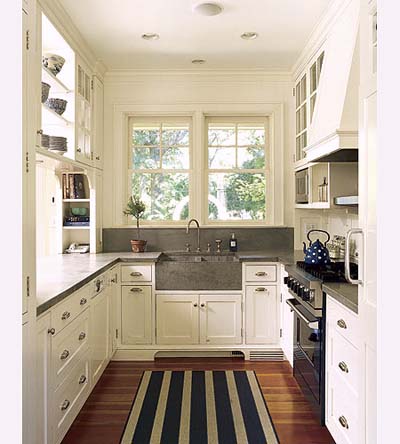 Speaking of IKEA! One of my major inspirations is this IKEA kitchen. Of course it has the wood counters that I do so much love and the white back splash and the white cabinets and the pendant lights... But it also has some great glass front cabinets that really make the space feel visually larger. Perhaps that could be an idea? So many questions and ideas are running around in my head right now! Too bad money doesn't grow on trees so I could try each one. hehe. :)
What do you think? Any good tips or tricks for designing and planning a kitchen face lift? Unfortunately it would be way too expensive to redo the entire kitchen, and in my situation, it would be a waste of money because I would never recoup the investment.
So far I have:
-paint
-paint
-clean
-paint
-get a rug