Since I have graduated from college I have had the opportunity to actually spend time doing things I enjoy. Three specifically? Cook, read, wine. Sometimes beer since it's nearly summertime. So I decided that I will start doing a review of something or other every Sunday. No guarantee that it will be a book but that's pretty likely.
My first review is going to be on the novel Memoirs of a Geisha by Arthur Golden.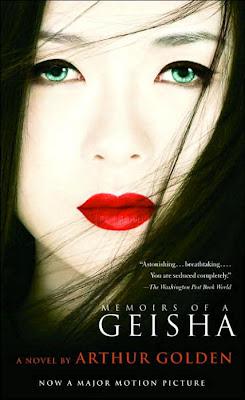 The book came out quite awhile ago but this is my first time reading it and I am glad I did! Totally loved it! It was awesome! Everything about it was simple but purposeful and I really felt connected to the culture just by the way that the novel was written. I also feel as though the author did a good job making sure to give some cultural explanation to certain elements without making it into a text book.
The story is about one girl's journey from a poor orphan (her dad dies soon after her joining the geisha community) to one of the most powerful geisha around. It was quite powerful and heart wrenching at times.
At the beginning of the book the narrator tells the readers, "I wasn't born and raised to be a Kyoto geisha. I wasn't even born in Kyoto. I'm a fisherman's daughter from a little town called Yoroido on the Sea of Japan" (Golden 7). The author's simple sentences are easy to follow and reflect the time and era that the story is based during. I thought it was a beautiful book and I highly recommend you read it before watching the film!
Does anyone have any other books they recommend? Leave it in the comments or tell me on
Facebook
. I am a freaky fast reader so I am up to suggestions!
So far on my list I have:
Paradise of the Blind
Love in the Time of Cholera
Inkheart
The Book Thief
Marley and Me
My Sister's Keeper
My Antonia
I think that's a pretty decent list so far but I love reading (English teacher up in here) plus it's something I learned from my Momma.