We are so excited to be getting married! One of the first pieces to that process was how we planned to communicate to our families our pending nuptials and information that they needed to have to plan or determine if they would be able to travel to be a part of it. So. Step one in our DIY budget wedding planning?
Selecting a Wedding Suite on a Budget!
What to look for, what you need, and how to get it in your budget.
The first thing that we did when determining our wedding invitation suite was to set a budget. I really didn't want to spend
hundreds
of dollars on wedding invites. Not to be brutal, but honestly, most people recycle them after awhile or they end up just tacked onto a refrigerator at some point and forgotten. I love beautiful things and for me they are super special.
Our total budget for all of our Save the Dates, invitations, RSVP cards, and thank yous:
$200.00
for all of it, not including postage.
Some people opt for digital invites which are really cool. We personally want to have a more formal feel to our wedding and sending out physical invites tends to have more of that effect. You can find more about the types of wedding invite situations and how to select one for you at:
I don't know about you but I absolutely LOVE all things
Etsy
and love that things are unique on there. I don't like having the same details as the next person. So, off to Etsy we went where we found the amazing shop for all things paper and invite related
Rosey Paperie
.
I wanted an invitation suite that could be customized and also went along with our wedding theme. There is one in this shop for each style, color scheme, and budget! Here is the suite that we selected: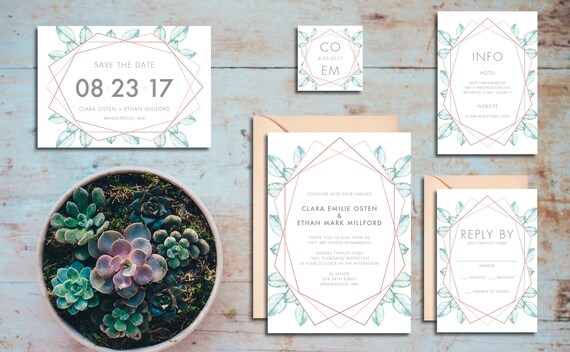 This one is called the
"Rose Gold Geometric Suite"
and it is PERFECT for our event! We selected this one because of the simple look, the greenery, and rose gold/blush is one of our main colors. Literally my engagement ring is rose gold, my watch is rose gold, my phone, my Christmas gift ring, and even the baby's room will have rose gold in it.
I spent a long time pouring over the different choices and some of the other top contenders were: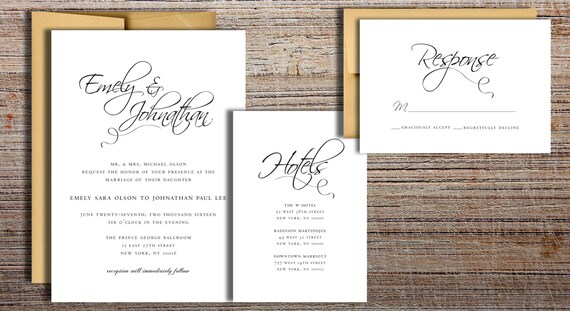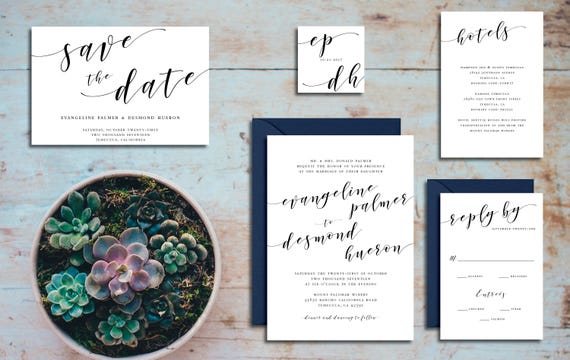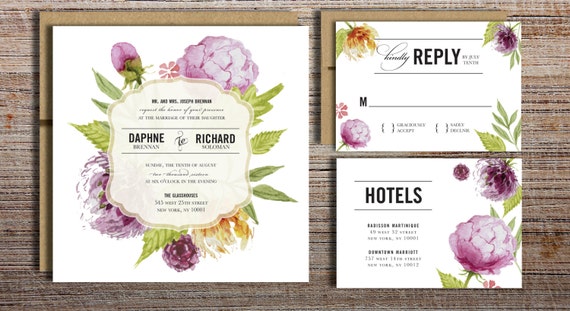 Obviously all of theme on the site are gorgeous! The creator also has great reviews both on Etsy as well as on
The Knot
. I use the Knot app to keep track of our planning schedule and find vendors so that always gives me comfort. My personal review of the shop can be found there, also!
My review of Rosey Paperie: "
This wedding suite was great! We wanted a high end look but the flexibility (and let's be honest, budget friendliness) of some DIY. The shop owner was great at being patient with us making edits and responding right away and making the adjustments, especially since I kept
forgetting certain important pieces that needed to go on the invite. Highly recommend!"
What made it even better is that when we discovered we were pregnant after already ordering and editing the final files- she was more than willing to change the date on all of our components for NO additional fee! I explained the situation and it was so wonderful getting them fixed up so we could still have the entire matching set up.
Ordering our invites was super easy, also. The artist was really fast (after we sent all the info via email and Etsy conversation) and she sent over a Zip file to download to our computer. I backed mine up on iCloud and our family hard drive. Here's our beautiful Save the Date (with new date!):
We then went and ordered the Save the Dates as postcards from
VistaPrint
.
Why postcards for Save the Dates? Well. Because:
WAY CHEAPER! (Make sure you check your post office for size limits and other requirements)
Have cheaper postage per card.
Still look really great and allow you to send a personal message, if desired.
We were able to spend $30 on Etsy for the full invitation suite and only spent $50.22 on ordering 200 Save the Dates.
We used any and all discount codes we could find for VistaPrint as well as signed up for their exclusive emails. Using these it made it much cheaper for us to use this source then printing at Staples or Shutterfly. That may not be the case for everyone everywhere, but it definitely worked out best for us.
We've already ordered the 200 RSVP cards & 200 Thank You cards (both as postcards) for $70.95. That puts us at $152.00 and should leave us with enough for the invites themselves. We will be ordering those in a few more months since we had to push the wedding back.
So far, so good on the budget! Beautiful and high quality without breaking the bank. That's my favorite wedding planning style!
What were some of the things you spent money on for your wedding you wish you hadn't? Tell me in the comments below so I can watch out for it!